Best Phoenix Golf Courses
Click Here for today's Amazon deals on golf accessories
Phoenix, AZ is home to some of the most popular and scenic golf courses in the world. The great thing about golfing in Phoenix is that you will get to experience some of the best championship courses in the nation while taking in all the beautiful desert scenery at the same time.
Phoenix and the areas around it are home to around 200 golf courses in many different styles. These range from resorts, public and private courses. Many of the courses in the area feel like they are worlds away because they occupy desert terrain. There are great resorts where you and your family can enjoy spa treatments between rounds or public courses that you can walk out on at any time. It is up to you but you will have plenty to choose from.
Because of all the choices of resorts and golf courses, we have compiled a list of golf courses in the greater Phoenix area to check out. We will also talk about what makes these clubs so great and what makes them different from the clubs in the Phoenix area. We hope it helps you to narrow down your search for picking a great golf course in Phoenix, AZ
---
Grandview Golf Course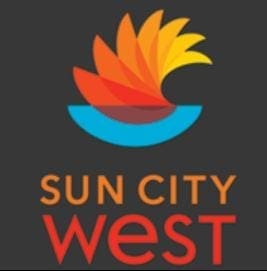 14260 W Meeker Blvd
Sun City West, AZ 85375
(623) 544-6013
golf.suncitywest.com/grandview
Grandview Golf Course is the longest course of the seven Recreation Center courses. For several years, Grandview Golf Course has played host to the LPGA Legends Tour tournament. The bunkers, lakes and contoured fairways mean that being accurate off the tee are of the utmost importance. Guests and residents alike who like to test their skill come to Grandview to try their hand.
If you have any apparel or equipment needs, the Pro Shop here at Grandview Golf Course can accommodate everything you would need. The Crooked Putter is the full service restaurant available for your use. There you can get a meal at any time of the day.
Grandview Golf Course stretches 6,775 yards from the blue tees. This course is a par 72 with a rating of 72.3 and a slope of 129. This course has something for everyone. From the weekend golfer that only gets out a few time a year to the scratch golfer, Grandview Golf Course is a fun challenge for everyone. So, if you'd like to take a look for yourself, stop in and visit this beautiful course today.
---
Grand Canyon University Golf Course
5902 W Indian School Rd
Phoenix, AZ 85033
(623) 846-4022
gcugolf.com
Grand Canyon University Golf Course welcomes golfers of all skill levels and handicaps. This well-manicured course offers beautiful scenic views of the terrain, stretches of lush green turf as well as other fantastic amenities in the western section of Phoenix. This community golf space offers over 7,200 yards of beautiful scenery for the public, high school and college tournaments
Grand Canyon University Golf Course offers updated practice facilities, enhanced bunkers, challenging greens, extended fairways, new tee boxes and a clubhouse that spans 10,000 square feet with a bar and restaurant inside. There is a fully equipped pro shop with a second story practice facility in the club house as well. This stunning course is a traditional walking course with preserved trees that were planted over 50 years ago, beautiful greens, lush fairways and holes that you will remember playing for years to come.
This public course is a perfect test for golfers of all skill levels. From beginners to pros, Grand Canyon University Golf Course offers something for everyone. However, the only way you'll know for sure is to get out there and try it for yourself.
---
Moon Valley Country Club
151 W Moon Valley Dr
Phoenix, AZ 85023
(602) 942-0000
moonvalleycc.com
When you decide to get out on the course at Moon Valley Country Club, you are stepping onto a course that is going to give you a golf experience like you've never experienced before. The course here is an absolute blast for anyone that tries it. This goes for the novice that only places a few times a year to the low handicapper that is out on the course all the time. Moon Valley Country Club offers the golfer a scenic backdrop all while providing a challenge for everyone.
Moon Valley Country Club offers rolling fairways, strategically placed bunkers, water hazards and lush fairways. The goal for the team at Moon Valley Country Club is to provide you a comfortable atmosphere while receiving exceptional service at the same time.
From the championship tees, this course is 7,216 yards in total. It is a par 72 with four par 3's, ten par 4's and four par 5's.
The next time you are looking to book a golf vacation or you're in the Phoenix area, play a round at Moon Valley Country Club to see what all the talk is about.
---
Ahwatukee Country Club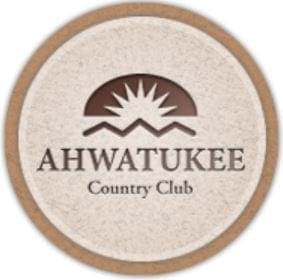 12432 S 48th St
Phoenix, AZ 85044
(480) 893-1161
ahwatukeegolf.com
Ahwatukee Country Club is a member of the Foothills Golf Group. This group also includes Lakes at Ahwatukee, which is adjacent to Ahwatukee Country Club which is an executive golf course that plays host to the Arizona short course championship. Ahwatukee Country Club offer a course that is long but forgiving so that people that don't get a chance to golf as much will just as much fun as the scratch golfer.
You will find the greens to be medium sized with open fronts, which are welcoming to low running chips and pitches. Most of the greens at Ahwatukee Country Club will be surrounded by strategically placed bunkers placed on either both sides or just one side of the green. There is a total of 32 bunkers that will come into play. You will also find some strategic mounding and scattered trees throughout the course so you'll need to be mindful of that. You will also encounter lakes on six of the holes with the 4th and 14th holes being the stars of the water holes at Ahwatukee Country Club.
---
Lookout Mountain Golf Club
11111 N 7th St
Phoenix, AZ 85020
(602) 866-7500
tapatiocliffshilton.com
Nine time winner of the Golf Digest Four Star Award, The Lookout Mountain Golf Club has also been voted as one of as one of America's Best Golf Courses by Zagat. The accolades don't stop there either. The Lookout Mountain Golf Club has also been picked as one of Arizona's Top 10 Golf Courses by the folks that read Arizona Business Magazine. When you play a round at The Lookout Mountain Golf Club, you will understand why they have all the attention they are getting.
This course was designed by Bill Johnston and it was opened up in 1989. The Lookout Mountain Golf Club stretches for 6,515 yards from the tees furthest back. It has a 70 USGA rating and a 130 slope rating. There is nothing quite like playing 18 holes on a course that offers magnificent views of the Phoenix North Mountains and the vast Sonoran Desert.
If you are looking for a fun weekend trip with your friends or family, The Lookout Mountain Golf Club at Pointe Hilton Tapatio Cliffs Resort is a great place to be. The amenities and service you will experience are top notch and will have you coming back for multiple visits.
---
Arizona Biltmore Golf Club
2400 E Missouri Ave
Phoenix, AZ 85016
(602) 955-9655
azbiltmoregc.com
Arizona Biltmore Golf Club offers the city of Phoenix and all of their guests two championship courses that are top of the line in terms of proximity, privileges and prestige. These wonderful course was built in the late 1920's and has the layout and character of two completely different styles of courses.
The first course you may want to tackle is the Links Course. This course 6,300 yards long and a par 71. Of the two courses you can play at Arizona Biltmore Golf Club, this is the younger of the two. Over the years, the Links Course has turned into one of those courses that you can't miss out on. You'll find tranquil lakes and cool pines on this course, but don't let the relaxation fool you, this course will challenge you.
The second course is the Adobe Course which stretches 6,430 yards and is a par 71. This course is grand and stately. It was built in 1928 and made from the vision that William Wrigley, Jr. had in mind. He persuaded William Bell (the Bel-Air Country Club designer) and Riviera to create what ended up being one of the first courses in Arizona. It's no wonder that the Adobe Course became of the classic courses in all of Arizona.
---
Arizona Grand Golf Course
8000 Arizona Grand Pkwy
Phoenix, AZ 85044
(602) 431-6480
arizonagrandresort.com
Arizona Grand Golf Course has supported the rich tradition of golf for over two decades. With its magnificent links course, Arizona Grand Golf Course offers a panoramic view of the beautiful desert surroundings. The breathtaking mountain vistas and dramatic elevation changes highlight this challenging and diverse par 71 course. This golf course is a compliment to the grandeur of the scenic Sonoran desert with conditions that are almost perfect and a service staff that is dedicated to making sure that players of all skill levels will enjoy themselves when they visit.
This layout offers any golfer to test their medal against desert target golf mixed with traditional links. The two nines are unique to one another as the front nine has more of a traditional layout and the back nine is almost exclusively desert. Each hole at Arizona Grand Golf Course has a name that is indicative of both the surrounding area and the layout. This par 71 course is 6,288 yards long with four sets of tees to shoot from. This has become a popular place to golf with both visitors and locals so, don't waste any more time and go check it out.
---
Papago Golf Course
5595 E Moreland St
Phoenix, AZ 85008
(602) 275-8428
papagogolfcourse.net
The best public golf courses in all of Arizona can be debated, but what we do know is that Papago Golf Course is right up there at the top. The designer of Torrey Pines in San Diego, Francis Bell, was the man to take on the task of designing Papago Golf Course. The course was carved out of the rugged terrain at the base of the Papago Buttes. Even though you can get to Papago Golf Course in just 15 minutes from the heart of downtown Phoenix, the location sits inside Papago park which gives the golfer a feeling of peace and seclusion.
Papago Golf Course was opened in 1963 originally and then underwent renovations in 1977 and 2008 This club has played host to hundreds of golf events over the course of it being open and this includes the Phoenix Open Qualifier and the U.S. Amateur Public Links Championship. This layout is an impressive 7,333 yards from the back tees and in addition to how long it is, there are plenty of mature trees and strategically placed sand traps.
If you decide to shoot a round, you will notice the skyline of Phoenix past the red rocks. The views alone are worth the round.
---
Raven Golf Club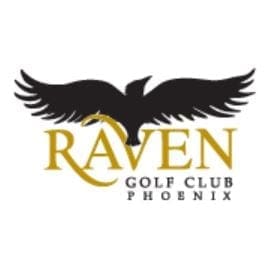 3636 E Baseline Rd
Phoenix, AZ 85042
(602) 243-3636
ravenphx.com
Raven Golf Club Phoenix is a magnificent championship style course with a wide variety of high quality amenities and a reputation for customer service that earned this course the recognition of being one America's top daily fee golf clubs. Raven Golf Club Phoenix also earned 4.5 stars from Golf Digest, named "#1 Guest Service in North America" and "#5 Golf Course in the State" by Arizona Magazine. From the expansive practice facility and manicured greens to the beautiful air conditioned event and wedding pavilion that looks over the 18th hold, this club can offer you special events and dinging experiences in the shadows of South Mountain in addition to giving guests spectacular golfing experiences.
This is an 18 hole course that was designed by David Graham and Gary Panks. The doors on this public course opened in 1995 and it has been a fixture in the Arizona golf scene ever since. From the back tees, Raven Golf Club Phoenix measures 7,078 yards, has a slope rating of 132 and its USGA rating is 73.2.
---
Stonecreek Golf Club
4435 E Paradise Village Pkwy S
Phoenix, AZ 85032
(602) 953-9111
stonecreekgc.com
Stonecreek Golf Club's fantastic par 71, 6,871 yard championship course is etched into the desert in the heart of Phoenix on pristine terrain. This course was originally designed by Roy Dye and Gary Grandstaff. Roy Dye is the brother of the legendary gold course architect Pete Dye and part of Dye Designs.
Arthur Hills & Associates were in charge of the redesign of Stonecreek Golf Club. The goal of this redesign was to bring the course up to the current standards of today's golf and to create a more modern course infrastructure. At the same time, they incorporated many agronomy and environmentally safe maintenance practices.
What came out of this redesign was a breathtaking and adventurous links style course that Golf Digest rated as being 4 stars. You can find these lush Bermuda fairways framed by mature trees while creek beds and elevated greens roam through the course and are in play on five of the 18 holes. This adds to the strategic diversity of Stonecreek Golf Club as well as adding to the natural beauty.
Five sets of tees on each hole make sure that any golfer is able to enjoy their time at Stonecreek Golf Club and they think you will too.
---
Legacy Golf Club
6808 S 32nd St
Phoenix, AZ 85042
(602) 305-5550
golflegacyresort.com
Legacy Golf Club is an 18 hole championship golf course that offers an interesting look and a chance to experience some of the Arizona's past and Heard legacy (from which the name of the course comes from). Legacy Golf Club is rich in history and heritage. It can be found on what used to be Dwight B. Heard's ranch that spans 7,500 acres. They have taken great pride in integrating and preserving many of the historical monuments and structures to give you a real feel of the past. Built in 1902, the original two-grain silos still stand along the fairway of the 18th hole and at one tie were Maricopa County's tallest structures.
Legacy Golf Club was designed by world renowned designer Gary Panks. Manicured greens, well placed hazards, forgiving rough and green lush fairways offer golfers of all skill levels a challenge. Shrubs, indigenous grasses, trees and wild flowers surround this magnificent rolling landscape. The elevation of Legacy Golf Club gives you excellent views of the downtown Phoenix skyline, Squaw Peak and South Mountain.
---
Arizona Country Club
5668 E Orange Blossom Ln
Phoenix, AZ 85018
(480) 947-7666
azcountryclub.com
Arizona Country Club has earned a reputation for having some of the purest surfaces for putting in all the valley. Varying hole designs coupled with undulated greens require a variety of shots and golfers will use every club in the bag over the course of these 18 holes. You will get a Midwestern feel with the rows of mature trees while at the same time, giving you that west coast feel with palm trees sprinkled in along the way. The scenic views of the Papago Buttes and Camelback Mountain will put you at easy and let you enjoy this wonderful golf experience.
You'll have to be sharp when you're out here as there are over 70 strategically placed bunkers throughout the course and there are five holes where you will encounter water hazards. The members of Arizona Country Club carry a storied tradition of the championship course every time they hit the tee box. Avid Golfer Magazine named Arizona Country Club as the Best Playing Membership in Arizona in 2011 and 2012. Golf is more than a game at Arizona Country Club; it is a lifestyle.
---
Whirlwind Golf Club at Wild Horse Pass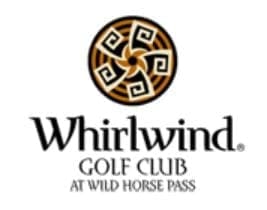 5692 W North Loop Rd
Chandler, AZ 85226
(480) 940-1500
whirlwindgolf.com
Whirlwind Golf Club offers golfers 36 holes of fantastic golf over 242 acres of land. Even though you will be just 12 miles from downtown Phoenix, the Cattail Course at Whirlwind Golf Club will take you on a journey through scenic and secluded terrain where the beauty and tranquility of the desert plays along with you in silence. The designer of both courses at Whirlwind Golf Club is Gary Panks. Cattail is a 7,218 yard, par 72 course that starts on a 413 yard par 4 hole called Arrow Shot. You'll need to shoot straight through the South Mountain Range canyons until you reach Two Mesquites, which is the 517 yard, par 5 second hole. Last hole is literally the last hole on Cattail and it is a par 4, 450 yard hole that will give you a test to finish up with.
The other course at Whirlwind Golf Club is Devil's Claw. Native American culture runs deep on Devil's Claw. You will start on the 424 yard, par 4 named Greasy Mountain. It faces South Mountain for a very scenic view. The 5th hole is 593 yards long and designed to give you a feel of the travels of Maricopa tribe that stretches from the Colorado River to the spot where the Salt and Gila rivers connect.
Both of these courses will challenge a golfer of any skill level so visit them either one when you get the opportunity.
---
Glen Lakes Golf Course
5450 W Northern Ave
Glendale, AZ 85301
(623) 930-1113
glenlakesgolfaz.com
Glen Lakes Golf Course is a fun 9 hole executive golf course that offers all sorts of golfing activities. This course is great for beginners and it can get challenging for the scratch golfer. This relaxing setting includes three different lakes that are surrounded by pines and palms that will come into play throughout this Jay Hillhouse designed golf course.
This course is great for any 9 hole or 18 hole event. From the back tees, Glen Lakes Golf Course has a slope of 98 and a course rating of 31. Glen Lakes Golf Course is a great place to hold any tournament or friendly get together. Enjoy this course with your family or friends, but make sure you get a chance to experience Glen Lakes Golf Course.