Featured Orlando Golf Courses
Click Here for today's Amazon deals on golf accessories
The USA is recognized for having some of the most beautiful and challenging golf courses available to play on in the world. When looking at some of best cities to golf in while in the United States, Orlando is up there at the top of the list. When many people think of Orlando, they think of Disney World, Epcot and Universal Studios. However, many don't know that some of the best golf courses in the United States are located in Orlando and the surrounding areas.
If you've been thinking about a golf trip somewhere, we suggest considering Orlando as a destination. There are some beautiful golf courses in the area that will make you forget all about Mickey Mouse. The question becomes, of all the courses, how do you choose which course to golf at in Orlando? There plenty of beautiful golf courses in the greater Orlando area and our goal is to help you make a better decision on where you should play. We will do this by providing you with a list of some of the best courses in the Orlando area and to talk about what makes them special when compared to the other courses.
Enjoy our list of some of the best golf courses in the greater Orlando area and if you are a course and want to be included on our list, please reach out.
---
Celebration Golf Club
701 Golfpark Dr
Kissimmee, FL 34747
(407) 566-4653
celebrationgolf.com
It's all about you at Celebration Golf Club. Since the day it opened back in 1996, golfing in the Orlando area hasn't been the same. The team at Celebration Golf Club believe there is a difference between just playing golf and experiencing the game of golf like it was back in the days of old.
This course is open to the public and is open all year round. When golfing here, you will experience 18 holes narrow, tight fairways and greens that are both large and small on this course designed by Robert Trent Jones, Jr. and Robert Trent Jones, Sr. On this magnificent course, you will find water hazards on ever hole outside of the 11th. You will also find strategically placed bunkers everywhere you look. The facility at Celebration Golf Club features many practice options like a putting green, chipping area and a unique driving range in which the greens are islands to shoot at.
All that being said, you should experience this for yourself and make your decision.
---
Waldorf Astoria Golf Club
14224 Bonnet Creek Resort Ln
Orlando, FL 32821
(407) 597-5500
waldorfastoriaorlando.com
Waldorf Astoria Golf Club was built with a five tee system that allows for players of all abilities to get a round in on this wonderful course. This 18 hole beauty was designed by Rees Jones and Steve Weisser as a championship course that stretches 7,108 yards with a par 72. The holes at Waldorf Astoria Golf Club are visually stunning from the first tee to the last green. The bunkers were created to be a representation of the hazards on courses from years back. You will also see cypress trees and pines that line the fairways.
When being built, the idea was to use the existing contours of the land and work with it and to always be aware of the landscapes that were already there. Jones then enhanced this course to be something that you will always remember when you come visit. After you hit the links for a while, come to the clubhouse to relax and have fun in The Clubhouse Grille.
In addition to offering a place to golf, you can also go to their Waldorf Astoria Golf Academy if you want to learn. So, enjoy what the Waldorf Astoria Golf Club has to offer.
---
Tranquilo Golf Course at Four Seasons Resort Orlando
3451 Golf View Dr
Lake Buena Vista, FL 32830
(407) 313-7777
fourseasons.com
Previously known as Disney Osprey Ridge Golf Course, Tranquilo Golf Club at Four Seasons Resort Orlando was built in 1992 under the guidance of Tom Fazio. Here you'll find 18 holes of pure bliss in a course that is considered one of the best ones in Florida by getting 4.5 stars out of 5 from Golf Digest.
When Fazio designed Tranquilo Golf Club at Four Seasons Resort Orlando, he did it with trying to give the public a links style course that is extra-long. This course offers elevated tees and greens, more than 70 bunkers strategically placed throughout the course and nine water holes to offer challenges for the novice to the scratch golfer. These dramatic fairways you will find here slice through forests of cypress, bay trees, palmetto, pine and oak. This course measures at 6,901 yards from the back tees, a slope rating of 127 and a course rating of 72.3.
Come why this course was picked to host the 2019 LPGA Tour's Diamond Resorts Tournament of Champions. It'll definitely be worth your time.
---
Mystic Dunes Golf Club
7850 Shadow Tree Lane
Celebration, FL 34747
(407) 396-1311
mysticdunesgolf.com
Mystic Dunes Golf Club is newly improved and open for business. Now under new management and improved playing conditions, the team at Mystic Dunes Golf Club can't wait to show you what they have to offer for you and your family.
Mystic Dunes Golf Club was voted a 4.5 star course out of 5 by Golf Digest for its unique setup. The course was designed by NBC golf analyst and Champions Tour Player Gary Koch. With mature oaks, large wetland areas, rolling sand dunes and 80 foot elevation changes, this part 72 golf course will give the golfer two, very different, nines. The front nine of this course features the characteristics of a course that is set up like British Isles links with rolling fairways, pot bunkers and widespread perimeter mounding. Then you go to the back nine where you are going to get that "low country" style of course that will remind you of courses in Carolina with fairways that wind through the native marsh and wetland areas bordering the cypress and oak forests.
---
Mission Inn Resort & Club
10400 FL-48
Howey-In-The-Hills, FL 34737
(352) 324-3101
missioninnresort.com
At Mission Inn, you will find two championship courses. Being one of Florida's premier golf resorts, visitors will be provided exceptional play and a challenging course. The experience that golfers will get here are truly magnificent because of the ospreys and eagles that fly overhead, the mature magnolia and pine trees that rise into the sky and the hills that pitch and roll. This terrain was already in place before they broke ground and the designers stayed with the elevation changes that reach up to 85 feet total as well as a peaceful feeling you get out here without the presence of condos and houses.
You and your friends can spend the day taking on one of the oldest courses in Florida being built in 1917. El Campeón is known for having steep hills and being the kind of course where you need to be able to make shots while the Las Colinas Course is known for its sweeping fairways and rolling hills. They are both beautiful 18 hole championship courses for those that want to test their skills.
---
Providence Golf Club
1518 Clubhouse Blvd
Davenport, FL 33837
(863) 424-7916
providence-golf.com
Providence Golf Club was meant to become a very popular golf course because of its proximity to Disney World Orlando. You can find just southwest of downtown Orlando in Davenport, FL. This course is aesthetically pleasing while being technically difficult. Overall, this course can be considered a masterpiece.
Golfers who visit Providence Golf Club will get to play 18 championship holes designed by the notorious golf course designer, Mike Dasher. This course will test your golf game and provide a relaxing atmosphere with its wetlands, ancient hardwoods and freshwater creeks. It also wouldn't be a surprise to get a look at some of the natural wildlife in the area like wild turkey, deer and otters to name a few.
Dash, as a golf course designer, was a fan of the European style courses and this was only made more obvious by many of his undulated, unique greens. The reviews of Providence Golf Club, their restaurant, banquet facilities and clubhouse should be enough to convince you and your family or friends to come give this guys a visit.
---
Kissimmee Bay Country Club
2801 Kissimmee Bay Blvd
Kissimmee, FL 34744
(407) 348-4653
playgolfinkissimmee.com
Kissimmee Bay Country Club can be found about 25 minutes from Orlando's downtown and only 15 minutes from Orlando International Airport.
The Kissimmee Bay Country Club offers visitors a chance to get away from the stresses of everyday life and allows you to get out there on the course and enjoy a round of casual golf while being surrounded by beauty.
This course is 18 holes, 6,830 yards from the back tees and a par 71. Golf Digest nominated Kissimmee Bay Country Club as one of the "Best New Courses" in America. This course was opened in 1990 and it was designed by Lloyd Clifton. This traditional style championship golf course gives a tough test to golfers of all levels while being a blast to play. You will see the plush fairways lined with lofty cypress trees and oaks that are over 100 years old in addition to challenging water hazards all over the place.
They have a great clubhouse that is a great little break away from the course where you can relax in an elegant, yet casual setting for locals and golfers. There is also a great little golf museum inside to see for free so, come check them out.
---
ChampionsGate Golf Club
8575 White Shark Blvd
Davenport, FL 33896
(407) 787-4653
championsgategolf.com
ChampionsGate Golf Club is a masterpiece in central Florida. This course and resort are just 15 minutes from Disney World Orlando but the course gives you the feeling that it is in the middle of nowhere.
There are two courses on this plot of land giving Orlando two unique golfing experiences through the National and International golf courses. These are two distinct Greg Norman designs mixed with the natural beauty of Florida. Every hole on these two courses features wonderful natural vistas. This is considered to be one of Orlando's best golf tournament and outing venue because of the 36 championship holes available to be played.
ChampionsGate Golf Club clubhouse is the place where you can find great features like a top 100 golf shop, sports lounge and the Pipers Grille. So, come enjoy the panoramic views of the ChampionsGate golf courses while having a drink and listening to the famous piper. You will be able to see for yourself why ChampionsGate Golf Club was voted "Orlando's Best Public Golf Club" by the people at cityvoter.com.
---
Eagle Creek Golf Club
10350 Emerson Lake Blvd
Orlando, FL 32832
(407) 273-4653
eaglecreekorlando.com
Eagle Creek Golf Club is a magnificent course found just minutes from the Orlando International Airport. The course was designed by Ron Garl and Howard Swan who are both well-known as being extremely successful golf course architects. This beautiful 18 hole, par 73, 7,217 yard championship course has five sets of tees for golfers of any level. It doesn't matter if you are a novice golfer or a scratch golfer, Eagle Creek Golf Club has something that will work for you. In addition to being aesthetically pleasing for all those that visit, This course will remind you of the old courses from England and Scotland with dramatic bulkheads and the more than 90 bunkers. In all, the experience of this true Scottish style course stands out when comparing it to other courses in the greater Orlando area.
If the course isn't enough for you, Eagle Creek Golf Club has a 14,000 square foot clubhouse where you can find the Belfry Restaurant, a fully stocked pro shop, showers and locker rooms for both men and women.
---
Panther Lake at Orange County National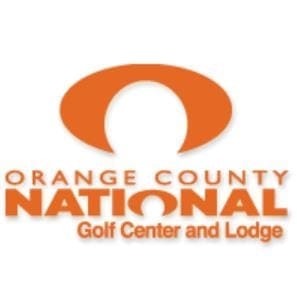 16301 Phil Ritson Way
Winter Garden, FL 34787
(407) 656-2626
ocngolf.com
The Orange County National Golf Center and Lodge offers some of the best golfing in Orlando, Florida and you will see for yourself when you see the wonderful course layout, facilities and conditions of the course. There are two championship courses to choose from as well as a 9 hole short course. The Orange County National Golf Center and Lodge also offers the biggest driving range and practice facility in America, as well as one of the top golf academies in the state.
The Crooked Cat Course is one of our favorites. It is one of the two championship courses at Orange County National Golf Center and Lodge. This course is not an easy course with rolling fairways that framed with mounding and the dramatic elevations changes. It's a links style course designed by David Harman, Phil Ritson and Isao Aoki. Several bunkers and water hazards come into play all over the course. There are also native heather and trees found at this course for a beautiful and natural environment. Because of the difficulty and length of this course, it is one of the favorites in the area for those with low handicaps.
---
Shingle Creek Golf Club
9939 Universal Blvd
Orlando, FL 32819
(407) 996-1559
shinglecreekgolf.com
Shingle Creek Golf Club takes its name from the ancient creek that is a piece of the natural headwaters of the Everglades in Florida. It was designed by David Harman and Thad Layton and opened in 2003. You can see this creek running throughout Shingle Creek Golf Club's 18 holes which make for interesting challenges. Majestic Pines and oaks are distributed throughout and accentuated by tropical landscaping.
This golf course has rolling, wide fairways lined with fast greens and trees. You will find water hazards that come into play on almost every hole via the interconnected waterways. Mostly around the fairways, you will find many strategically placed bunkers that create a more challenging experience when you are out on the course. The Shingle Creek Golf Club gives you the option of golfing on 5 different tees so that the novice golfer and the scratch golfer can have a great time while golfing.
---
The Deltona Club
1120 Elkcam Blvd
Deltona, FL 32725
(386) 789-4911
thedeltonaclub.com
The Deltona Club is easy to find if you are in the mood for some great golf. You can find it if you are traveling to or from Orlando just off Interstate 4. It has been named one of Florida's top 20 most popular public golf courses. However, you don't get the feeling of a public course when you visit The Deltona Club because of the many elevation changes that go from dramatic to just understated.
The Deltona Club stands out from other courses in the states because you find any water on this course. This 18 hole course was designed by Bobby Weed and David Wallace back in 1964. On the other hand, if you think you're getting out of this course with any easy round, you would be mistaken. The Deltona Club makes up for the lack of water hazards with rolling fairways lined with strategically placed trees and traps. You will also see many challenging downhill, side-hill and uphill lies that have multiple levels with rolling greens that will make it tough on even the best golfers.
That being said, The Deltona Club is still a fun course with a few challenging holes. Novice golfers can get through this course while the low handicappers will still come for a challenge.
---
Timacuan Golf Club
550 Timacuan Blvd
Lake Mary, FL 32746
(407) 321-0010
golftimacuan.com
Timacuan Golf Club was designed by Bobby Weed and Ron Garl in 1987. The 18 holes on this public course is consistently named one of the best golf courses in Florida. Situated on a rolling landscape sits the front nine. This is a unique trait among golf courses in Florida so you already know this is a course you need to see. Equally challenging are the back nine and it is totally different than the front nine. Timacuan Golf Club's back nine offers some of the best parts of golfing in Florida. This means you'll take a trip through the scenic wetlands and oak trees draped with Spanish moss. Seven holes on this course offer water hazards and you will get to choose from 5 different tees which offer something for every skill level of golfer.
Timacuan Golf Club features a putting green and lighted driving range so you can get your practice in no matter what time it is. This course is 7,047 yards from the back tees, has a rating of 73.3 and a slope of 127.
---
Highlands Reserve Golf Club
500 Highlands Reserve Blvd
Davenport, FL 33897
(863) 420-1724
highlandsreserve-golf.com
Highlands Reserve Golf Club offers 18 holes. It is a par 72, runs 6,702 yards from the back tees, has a rating of 71.6 and a slope of 120. This course was designed by Mike Dasher and was built in 1998.
The golf course at Highlands Reserve Golf Club sits on top of one of Florida's highest point. You will see a layout that offers spacious, open fairways that are reminiscent of the Scottish golf courses as well as greens that are fast, undulating and big. The Highlands Reserve Golf Club also has many elevation changes which give the golfer tricky uneven lies and stunning views. There are many bunkers that are tactically placed throughout the course to make your round even more challenging. You won't find any out of bounds or water on this course. One of the most challenging holes on the course is the long par 4, 14th. This hole has an elevated tee with seven bunkers on the left and five on the right. The wind is also something to consider when you're on this hole.
This is one of the many fine golf courses located in the greater Orlando area. No matter what kind of course you are looking for, Orlando offers some of the best golf in Florida.